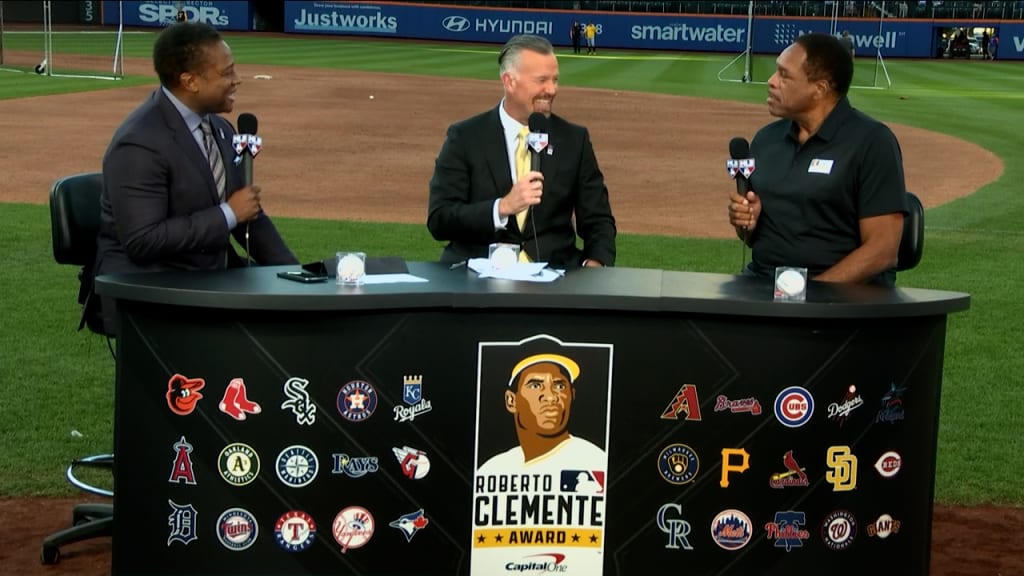 He 'activated the humanitarian in all of us': Clemente's legacy carried on
Published
September 16, 2022
Betelhem Ashame
NEW YORK — Fifty years ago on New Year's Eve, Roberto Clemente tragically passed away in a plane crash at the age of 38, his final act attempting to personally deliver emergency relief aid to victims of an earthquake in Nicaragua. With that fateful day in 1972, the late Hall of Famer left behind a legacy of service that has been carried on by generations of ballplayers, inspired by the life of the game's greatest humanitarian.
• VOTE NOW: 2022 Roberto Clemente Award presented by Capital One
For those players whose call to serve led them to make an unmistakable difference in their communities, Major League Baseball annually bestows the Roberto Clemente Award — the league's most prestigious individual player award — with the winner selected among a group of nominees from each of the 30 clubs and honored at the World Series.
On Thursday — the 21st annual Roberto Clemente Day — 14 previous recipients of the Clemente Award, spanning all but the current decade of the award's existence, gathered in New York City to honor the memory of the Pirates' No. 21.
Andre Thornton (1979), Steve Garvey ('81), Rick Sutcliffe ('87), Dale Murphy ('88), Dave Stewart ('90), Harold Reynolds ('91), Dave Winfield ('94), Eric Davis ('97), Al Leiter (2000), Jim Thome ('02), Carlos Delgado ('06), Carlos Beltrán ('13), Jimmy Rollins ('14), and Curtis Granderson ('16) took part in a pregame ceremony at Citi Field ahead of the Pirates-Mets contest, standing behind the mound as the center-field videoboard highlighted Clemente's life and career.
In the spirit of Roberto Clemente, previous Clemente Award recipients came together for a volunteer event at Citi Field to package food for those in need throughout New York City. pic.twitter.com/m5R0t2dxKT
But before some of the sport's biggest luminaries took the field, decked out in matching black polo shirts with a Roberto Clemente Day emblem on the left chest, they lived up to his legacy by giving back to those in need.
• No. 21 all over Pirates-Mets game on Clemente Day
Earlier that afternoon, the former players took part in a volunteer event to benefit Rise Against Hunger, an international relief organization that has partnered with MLB for years, including this week at the Intrepid Sea, Air & Space Museum for the September 11 National Day of Service. All 14 of them and their guests took over the bullpen gate off Seaver Way to package 10,152 meals for school-aged children across the country facing food insecurity.
"You've all been recognized for your exceptional service, and it is an honor to have you here and in attendance today," said Mets general manager Billy Eppler. "Roberto Clemente famously said, 'Any time you have an opportunity to make a difference in the world and you don't, then you are wasting your time on Earth.' He lived those words as truly as any person could, and so I thank you all for being here and making a difference."
Given that it was also the first day of Hispanic Heritage Month, the recipients were joined in the service project by employees from MLB and the Mets via their Latino employee resource groups (called Somos MLB and Los Mets, respectively). Most fittingly, however, Clemente's three sons — Roberto Jr., Luis and Enrique — were also in attendance with their families, carrying on the work of their father.
"When I think of your father, I think of three things," said MLB vice president of social responsibility April Brown. "First, his love for this game of baseball. … Second, his love for his family and his country. And then third, and most importantly, why we're here: the love of serving others and being in service off the field."
Sign up to receive our daily Morning Lineup to stay in the know about the latest trending topics around Major League Baseball.
• Donning No. 21, Rays field MLB's first all-Latino lineup
The team of more than 75 volunteers filled 47 boxes' worth of meals, with each one feeding a child once a day for an entire school year. Every 1,000-meal milestone was celebrated with the bang of a gong, which the former players gleefully took the lead in doing. Roberto Jr.'s young son, Roberto Clemente III — who threw out the game's ceremonial first pitch alongside his father — was also given a chance to do the honors. The final triumphant bang was reserved for the three Clemente brothers.
"[This is] what Roberto is remembered for," Reynolds said. "Given his life, passing away the way he did, [he's] exemplary as a role model for all of us to live our lives by. And so, I don't think there'd be any other way to honor him than by doing something like this that's going to impact so many people."
Before the group arrived at Citi Field, they started the day at MLB's Midtown Manhattan office, meeting their fellow award winners — many for the first time — and taking a tour of the company's headquarters, which had moved since the end of their playing careers. Commissioner Rob Manfred welcomed the former players on behalf of the league, which spent more than a year planning for this special anniversary.
"There's no doubt that me being able to give back to the community, Roberto Clemente was an influence of that," said Beltrán, a fellow Puerto Rico native. "So when Roberto Clemente's name is mentioned and we get invited, we're going to say yes. This is great to keep his legacy alive and to continue to celebrate him as a player, as a human being and also as a humanitarian."
While there were many standout moments for all involved over the course of the momentous day, it was their act of service that stood out most to all the previous Clemente Award recipients — and to his loved ones.
"Dad inspired many in just making them become better human beings, in activating the humanitarian in all of us," said Luis Clemente. "And to have all the volunteers, to have all the recipients, to have everyone engaged in this program to really, truly continue Dad's legacy by giving — it's all that matters to us."