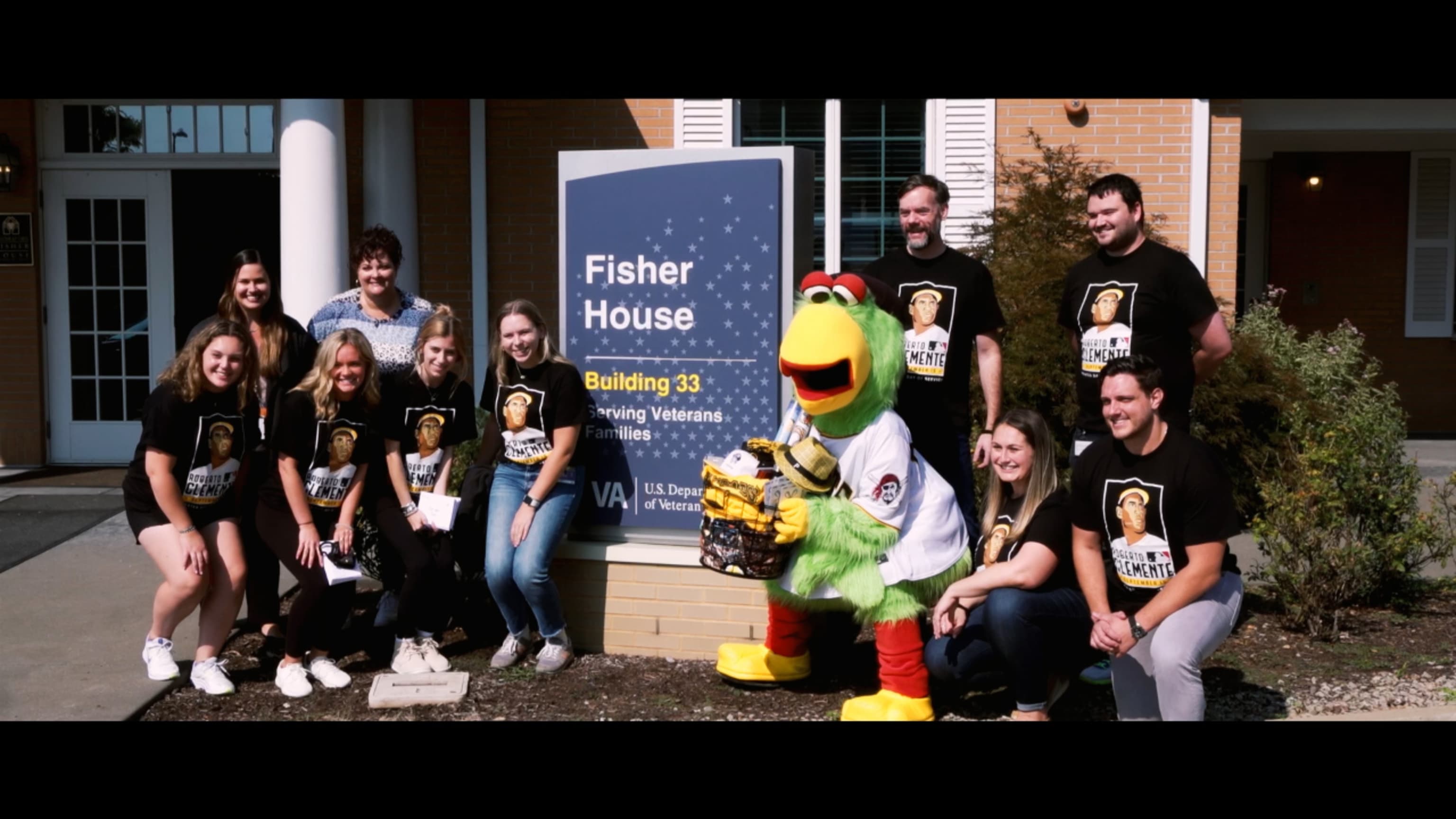 Pirates, Mets honor 'The Great One' in New York
Published
September 16, 2022
Justice delos Santos
NEW YORK — On this day, everyone at Citi Field paid homage to The Great One.
Every uniformed member of the Pirates and Mets wore Roberto Clemente's No. 21 on Thursday as part of the 21st annual Roberto Clemente Day.
• VOTE NOW: 2022 Roberto Clemente Award presented by Capital One
"I think today's one of the best days of the year," said Pirates manager Derek Shelton. "One of the things we're doing is we're not only honoring one of the best players in Pirates history and Major League Baseball history, but we're honoring the greatest humanitarian. I think we're going to see today with the fact that all the people and former players that are going to come out onto the field who won this award, we're talking about the highest exemplary players in the game. That's just carrying on Roberto's legacy."
For 2️⃣1️⃣.A number of former Clemente Award winners are at @CitiField tonight to honor The Great One. #ClementeDay pic.twitter.com/lYjRBNmBMt
Along with the Pirates and Mets, various coaches and players across the Majors eschewed their day-to-day digits in favor of Clemente's number. In Toronto, the Rays fielded a lineup that was composed entirely of Latin American-born hitters — a first in Major League history — all of whom were wearing No. 21.
The Pirates retired Clemente's number in 1973 following his tragic death on Dec. 31, 1972, as he attempted to deliver emergency relief supplies to earthquake victims in Nicaragua. In 2020, the entire Pirates team, as well as players with Puerto Rican heritage, wore the No. 21 to recognize Clemente. Shelton — through conversations with Luis Clemente and Roberto Clemente Jr., two of the Hall of Famer's sons — helped play a role in this coming to fruition.
"When I took the job, it was something that I felt really strongly about," Shelton said. "I really appreciate Major League Baseball discussing it with us, the Clemente family discussing it with us. Because ultimately, without [the Clemente family's] blessing, you can't do any of these things. When you're a new manager, you have to get ownership approval when you do something like this, so the fact that [chairman] Bob [Nutting] and [president] Travis [Williams] were on board with it right from the get-go allowed me to push an initiative during a COVID year. … I think Luis and Roberto realized how much it meant to our players, and I just appreciate that everybody was able to do it in a collaborative way."
Prior to the game, Roberto Clemente Jr. and Roberto Clemente III, the son and grandson of the late Clemente, threw out the ceremonial first pitches.
"This man was the greatest humanitarian in the history of our game, and they give an award out every year because of him," Shelton said. "People should know that. I just feel as the manager of the Pirates that it's our responsibility to make sure that that message continues to grow. This was just one vehicle to do it."
"No tan solo estamos representando a Puerto Rico, sino estamos representando a Roberto Clemente".Roberto Pérez discusses what it means to honor Clemente's legacy.#HispanicHeritageMonth x #ClementeDay pic.twitter.com/xWaPMbGYI9
To Mets shortstop Francisco Lindor, Clemente wasn't just an important part of Puerto Rico's baseball history, but the country's entire history.
"As a player that's in the big leagues, growing up, it's like, 'I want to be in the big leagues. I want to do stuff like Clemente, always giving back and helping other people, and winning the World Series, and getting 3,000 hits, and multiple Gold Gloves,'" Lindor said. "Put it this way: in Puerto Rico, the Pirates are relevant because of Clemente."
Have the latest news, ticket information, and more from the Mets and MLB delivered right to your inbox.
👀 @Lindor12BC's glove for tonight. #ClementeDay 2️⃣1️⃣ pic.twitter.com/w8rWYYlitk
Mets closer Edwin Díaz, who has previously worn the No. 21 in Clemente's honor, also recalled learning about the legacy from a very young age.
"My grandmother shared with me and my brother the story of Roberto Clemente, how he was off the field, the things he did for the community in Puerto Rico," Díaz said. "She talked about that a lot. She said, 'That guy helped a lot of families in Puerto Rico and other countries.' Everybody in Puerto Rico loved him."
Mets manager Buck Showalter recalled using a Clemente model bat during his high school playing days.
"Not the same size he did, I'll tell you that," Showalter said. "I remember when the sporting goods store would get a new shipment of bats, my dad and I would go over and hold up the grains and try to find the straight grains without the multi ones. But my dad would say, 'Hey, that's Roberto Clemente's model. Why don't you think about using it?' I didn't use it like him."