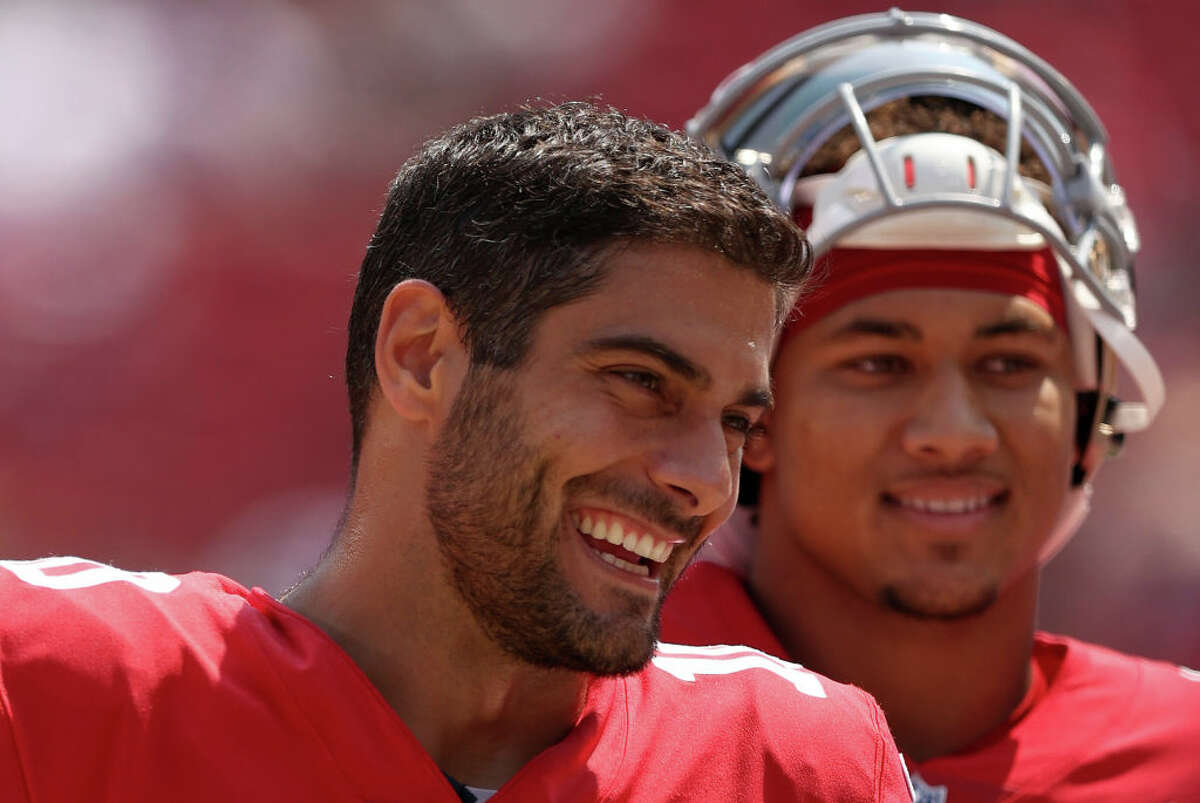 There's only one legitimately concerning Trey Lance report for the 49ers
Published
September 17, 2022
Jimmy Garoppolo and Trey Lance of the San Francisco 49ers talk to each other on the sidelines before their preseason game against the Las Vegas Raiders at Levi's Stadium on August 29, 2021.
The bed the San Francisco 49ers have made for themselves with the Trey Lance-Jimmy Garoppolo fiasco has turned up no shortage of bugs after their Week One loss to the subpar Chicago Bears. For all the panic and hyperbole around Trey Lance's performance against the Bears in Week One, almost all of it has been external to the organization.
Folks from within the game like former coach Mike Martz, recently retired Seattle Seahawks linebacker K.J. Wright and longtime New Orleans Saints head coach Sean Payton have dropped takes on the situation, criticizing Lance and speculating Kyle Shanahan may switch to Jimmy G soon. Additionally, longtime NFL reporter Jason La Canfora of the Washington Post speculated the organization would be quick to switch to Garoppolo if Lance and the Niners fall to the Seattle Seahawks this Sunday. La Canfora's hypothesis was based on a combination of his own intuition and a conversation with a "contract negotiator" from another organization, leaning on the idea that Garoppolo's recent extension is structured in a way that hints at the team wanting to ultimately see him play.
All of these perspectives, however, have been conspicuously external to the 49ers organization itself, based on guesses or sentiments from those outside the league or within other organizations.
The same can't be said for a recent report from NFL insider Chris Simms, who spoke with NFL on NBC on his "Unbuttoned" podcast Tuesday about the poor start for the title-hopeful 49ers. Simms did not mince words, stating "I've heard from people I know around the NFL that go, 'Yeah, there are prominent people in the 49ers locker room that go, 'Jimmy G. is better.'" So that's a real thing."
There's room for interpretation of course, particularly given that his statement seems to be secondhand sourcing. However, even if it's "through the grapevine," as Simms framed it, it is the most serious internal challenge to Lance and endorsement of Garoppolo that's emerged thus far.
One good performance by Lance could easily change all of this, which of course highlights the absurdity of the corner the Niners have backed themselves into. Their own game planning may not even be putting Lance in position to thrive, raising the question further as to what the goal is for Kyle Shanahan and John Lynch. With his restructured deal in place, Garoppolo is now a $7 million, granite-jawed Sword of Damacles hanging over Lance's head. If Simms to be believed, it seems there may be some on the 49ers roster who wouldn't mind seeing it drop.