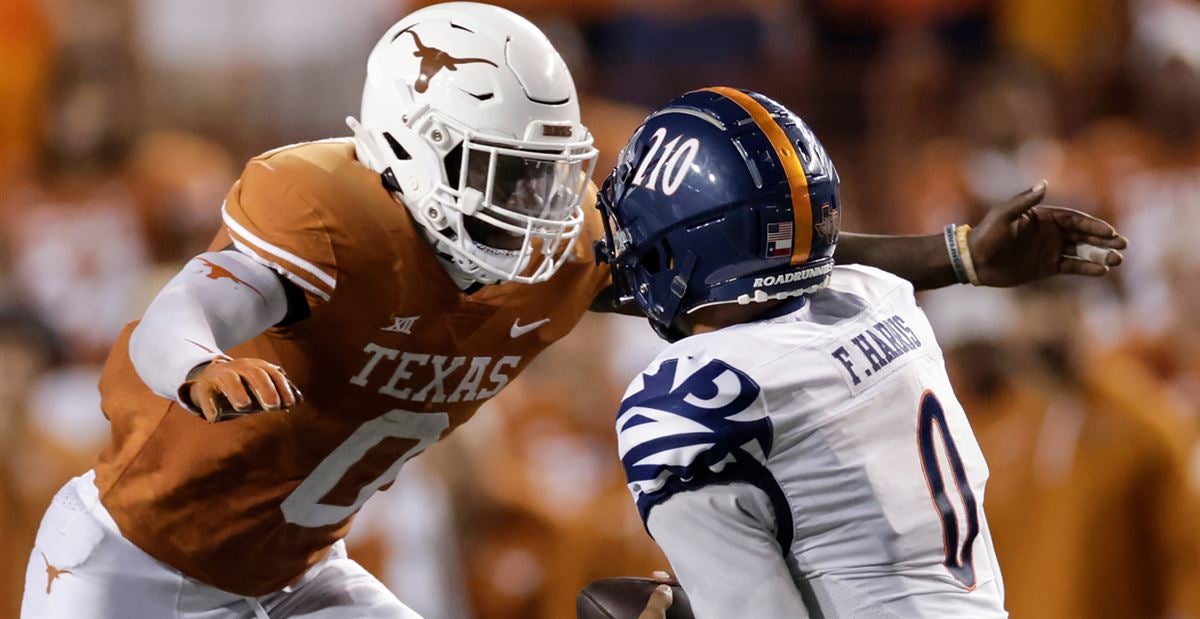 Texas plans to appeal targeting call against LB DeMarvion Overshown in win over UTSA
Published
September 19, 2022
AUSTIN, Texas — For the second time in as many games, Texas linebacker DeMarvion Overshown found himself at the center of a controversial targeting call, but the infraction levied against him in Saturday's 41-20 win over UTSA carries lingering consequences. After a replay review overturned a penalty in a 20-19 loss to then-No. 1 Alabama where Overshown was flagged for targeting Crimson Tide quarterback Bryce Young, the officials in Saturday's game decided to take a second look at Overshown sacking quarterback Frank Harris for an 8-yard loss on a third-and-8 early in the fourth quarter and, ultimately, ejected him from the game after determining he committed a targeting foul.
No flag was thrown when Overshown came up the gut and smacked Harris one play after breaking up a second-down pass in front of the Texas bench intended for running back Brenden Brady. Overshown's facemask connected with Harris' on a play where the veteran defender didn't lead with the crown of his helmet or commit an offense that typically results in targeting fouls getting called, specifically regarding forceable contact to the head and neck area.
What led to the after-further-review decision? The explanation Texas head coach Steve Sarkisian received from the officials centered around Harris' vulnerability.
"They deemed the quarterback a defenseless player at that point," Sarkisian said when asked during his postgame news conference what he was told on the field after the ruling by the Big 12 officiating crew working the game.
A player in the act of, or just after throwing a pass is considered a defenselss player under the umbrella of what the NCAA considers a defensless player. With that said, Sarkisian didn't feel Overshown took Harris down maliciously to the extent that it would warrant an ejection.
"I felt like DeMarvion did everything he could," Sarkisian said. "He never lowered his head. He tried to make a clean hit. It was a bang-bang play."
Overshown, who recorded 10 tackles, 0.5 tackles for loss and broke up a pass now faces a possible suspension for the first half of the Longhorns' Big 12 opener next Saturday at Texas Tech (2:30 p.m., ESPN). Why a suspension isn't a certainty is an offseason tweak to the targeting rule that allows a second-half targeting foul to be reviewed, which if it's determined that no targeting foul occurred, would lift the first-half suspension for the following game.
"We'll definitely try to appeal this one," Sarkisian said.
The process of appealing starts with Texas notifying the conference, who would then submit a request to Steve Shaw, the national coordinator of officials for the NCAA. Shaw would then review the play and it's determined that the player was incorrectly penalized for targeting, the call would be overturned and player would be eligible to play from the outset of his team's next game.
If the Longhorns head to Lubbock's Jones AT&T Stadium to face the Red Raiders with Overshown eligible to see the field in the first half, he'll be looking to build on a performance where earned a Pro Football Focus grade of 82, the best of any Longhorn defender against the Roadrunners. The ability defensive coordinator Pete Kwiatkowski has to move Overshown around and use him to create match-up issues for the opponent can be credited, in part, to the rise of Jaylan Ford, who recorded a game-high 15 tackles, 0.5 tackles for loss and forced a fumble in the win over UTSA.
Texas also got a noteworthy performance against the Roadrunners from Diamonte Tucker-Dorsey. Along with registering a team-high 1.5 tackles for loss and forcing a fumble, one of three tackles against UTSA for the 2021 FCS All-American from James Madison was a critical tackle of Harris to a force a fourth-and-1 early in the fourth quarter, a play where Keondre Coburn's pressure forced Harris to rush a throw, which fell incomplete and turned the ball over to the Longhorns on downs.
Five plays later, Bijan Robinson's 41-yard touchdown run put the game away with Texas going up by 18 points (38-20) with 9:36 remaining in regulation. The linebackers have helped lead a defensive resurgence under Kwiatkowski that's seen the unit allow only two red-zone touchdowns on seven opponent possessions through three games and score two defensive touchdowns, including an interception Jahdae Barron took back 44 yards for a score in Saturday's victory.