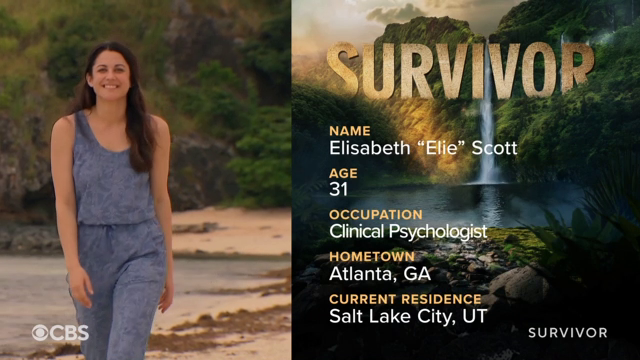 Survivor season 43 cast: Who are the new contestants? Complete list and profiles
Published
September 22, 2022
ENTERTAINMENT
Survivors is coming back to television with the premiere episode of the reality show's 43rd season airing on Wednesday 21 September. A new group of 18 castaways will be dropped off in the Mamanuca Islands off the coast of Fiji.
Over the course of 26 days they will have to outwit, outplay, and outlast all the rest for a chance to take home the one-million-dollar prize. So who are the intrepid individuals who will give it their all? Let's find out…
Like the previous two seasons there will be 18 castaways as opposed to the previously 20. Also instead of two tribes, they will be spread across three tribes: Baka (yellow), Coco (blue) and Vesi (red) with six players each.
Scott sees Survivor as a vessel for growth and transformation. The 31-year-old plans to play a really social game using her work as a clinical psychologist to get the other contestants to open up. The Atlanta native, who now lives in Salt Lake City is obsessed with Survivor comparing herself to former contestant Cirie Fields saying she'll be "a wolf in a brené brownsuit."
Meet Elie, a clinical psychologist who believes #Survivor is not just a competition but a vessel for growth and transformation.✨ pic.twitter.com/3WI1tTcvdb
The 53-year-old transcatheter valve expert from Houston, Texas has been watching the show since its inception and is must-see TV at his house. Gabler says despite his "severe-looking" exterior he has a heart of gold and he plans to use that to win. Like he always says "a good friend will always stab you in the front" so he's hoping to charm his fellow castaways taking them out one-by-one with a smile.
Meet Gabler, a heart valve specialist who believes working in the operating room under high stress in the perfect way to prepare for #Survivor.❤️‍🩹 pic.twitter.com/hmOr80BSSt
The performing arts teacher at a middle school in Philadelphia has a very colorful and joyous personality which she'll use to win Survivor season 43. Her superpower is "kicking people with color and punching them with joy." The 31-year-old thinks she'll be perceived as a threat because any space she steps into she wants to leave it brighter than she found it. She joined the game to check one final thing off the bucket list of her late mother.
Meet Morriah, a performing arts teacher who believes she might be seen as a threat for her strong social game.🗣️#Survivor pic.twitter.com/tZMM7fzqoV
Born in Korea, Knight was adopted by a family living in the suburbs of DC now lives in New Orleans. He's hoping that his perceived cross between a brainy nerd and a long-haired "bro" will keep people guessing. A college director of admissions, his passion for Survivor began as a kid. He's always dreamed of seeing his names in the opening credits of the show.
Meet Owen, a college admissions director who is excited to play the game he loves and is ready to soak it all in.🎉#Survivor pic.twitter.com/FloGHoakgS
The 24-year-old UX designer thinks the other castaways will think she some kind of numbers genius, but she feels its her creative side that will come out. Being a first-generation immigrant she thinks she has the grit to win the game. Like her father, with whom she used to watch the show growing up, she plans to start from the bottom and work her way up.
Meet Jeanine, a UX designer who believes being a first generation immigrant will help her in #Survivor.🙌🏽 pic.twitter.com/8yYKejcxQf
Layadi, at 19 years old, thinks he'll be the youngest winner of Survivor ever. The pet cremator who hails from Las Vegas feels his experience handling grieving pet owners will help him "get in there and read the room" for the stressful situations that contestants will be presented with.
Meet Sami, a pet cremator who believes he'll be the youngest winner in #Survivor history.✅ pic.twitter.com/8PvKLPHfXH
The graduate student at Stanford University, feels that he has the ability to work with people from various backgrounds. The 22-year-old has been working at becoming a journalist since a young age having already interviewed 3 Secretaries of State and a few senators. Moore thinks his maturity will see him as the sole survivor.
Meet Dwight, a graduate student who wants to put 100% of his energy into the game.⚡️#Survivor pic.twitter.com/L7RTbxedYu
Originally from Nigeria, she moved to the United States 16 years ago. The 43-year-old pharmacist now lives in Texas with her children. Ejere's a terrible liar and can't cheat and thinks that she'll be able to challenge the usual lying and backstabbing, using her skills to form a community.
Meet Nneka, a pharmacist who plans to draw from all of her life experiences in order to win #Survivor.🏆 pic.twitter.com/Vb30sGApgk
The 35-year-old is an adrenaline junkie and will jump at the chance for any new experience that's why he has "living" tattoo on his butt cheeks. The elevator and escalator sales executive is no stranger to island life currently living in Hawaii, but like his native Iowa it's all about the niceness. But that doesn't mean he can't be wily just like his hair, "relationship building in the front and wildly strategization in the back."
Meet Cody, a sales executive for an elevator company who believes he was made for #Survivor.💥 pic.twitter.com/oKckwzUmep
Lambert had been a three sport varsity athlete until she lost her leg above the knee in a moped accident six years ago. However, she got back into sports and competed at the Tokyo Paralympic Games where she set a new American record for the 100-meter. She doesn't want people to see her as broken, but inspired and motivated saying she'll be the first amputee to win Survivor.
Meet Noelle, a US Paralympian who hopes to motivate and inspire people on the island.🌟#Survivor pic.twitter.com/P7K7fo8Hwy
Lopez joined a gang when he was a teenager which taught him a level of street smarts he'll need and how to always be on his toes. However, the 30-year-old turned his life around and now has a PhD in Political science. As a survey methodologist he spends his life studying the way people vote.
Meet Jesse, a survey methodologist who believes he can take a lucky moment on the island and go all the way with it.🏝#Survivor pic.twitter.com/WhGHmPAMTZ
The 29-year-old got hooked on Survivor when she binge-watched the series during quarantine. Although Brennan might look like she doesn't want to get her hands dirty, she grew up racing dirt bikes. She's used to highly competitive atmosphere and being the only female in the room, working in cybersecurity sales. She's hoping those misperceptions of her will make her the dark horse at the end to come out on top.
Meet Justine, a cybersecurity saleswoman who is super excited for the challenges.💪🏽#Survivor pic.twitter.com/USiaybPL2F
The 37-year-old event planner knows how to prepare for what's to come and when to deviate. Jones thinks that his chess playing skills will serve him well in Survivor 43. The Philly native grew up playing chess which taught him there is more than one way to win. "The more variables, the more chaos, the better for me," he says.
Meet James, an event planner who believes winning #Survivor all comes down to timing on when to make your moves.👀 pic.twitter.com/bNSZkxkHYa
Carmine at 42 years old is one of the oldest contestants, but she doesn't see her age as a weakness but a strength. She believes that the other contestants will underestimate her. The pediatric nurse feels that to be successful in the field you need to be able to thrive in chaos. When she gets to the final three she plans to listen to the words of her father to get her past the finish line, "when you're at that last mile of a marathon do you speed up or slow down?"
Meet Lindsay, a pediatric nurse who thrives in chaos and believes that will get her far in the game.🌀#Survivor pic.twitter.com/JaSVayIcku
Ryan Medrano
When Medrano was born three months early with mild cerebral palsy, the doctors said he'd never walk. After years of physical therapy he's now a personal trainer. While the condition made his thinking a little slow, it forced him to read body language and facial expressions to anticipate next moves "So that I'm not lost in the dust behind the conversation." He feels that will be one of his strengths to come out on top in Survivor.
Meet Ryan, a warehouse associate who believes he'll be able to read people fairly well in the game.🎊#Survivor pic.twitter.com/i7mvoMkcU2
Survivor has had a big impact on Geo's life. As a gay Latino immigrant, the show help him overcome his insecurities. The 36-year-old plans to play the game hard until he's told to tone it down, rather than go home with regrets. He'll also need the paycheck, he was forced to quit his job to compete.
Meet Geo, a project manager who believes he might be underestimated but is ready to play a hard game.👏🏽#Survivor pic.twitter.com/1iS2seIwQx
The 28-year-old grew up in a low-income household, and having to survive in real life has prepared her for Survivor. The self-described 'chizmosa', or a nosy person, she plans to get the lowdown on her fellow castaways without giving herself away.
Meet Karla, an educational project manager who is ready to lie and start drama on the island.😏#Survivor pic.twitter.com/wGhhjY5ctI
The recent college graduate had been cast to go on the show in 2020 but the pandemic had other plans. The 26-year-old says that this is the perfect time to be on the show, while she's young and in shape. Her animal spirit, the fox, she thinks will bring her out on top. Like her name in Irish, the fox is clever as well as mischievous. "The fox is out of her den."
Meet Cassidy, a designer who wants to play a very social and clever game.😉 #Survivor pic.twitter.com/hGcU7XnZ6V
Latest News
ENTERTAINMENT
To be able to comment you must be registered and logged in. Forgot password?
Suscribe to our newsletters
LATEST NEWS
LATEST NEWS
US NEWS