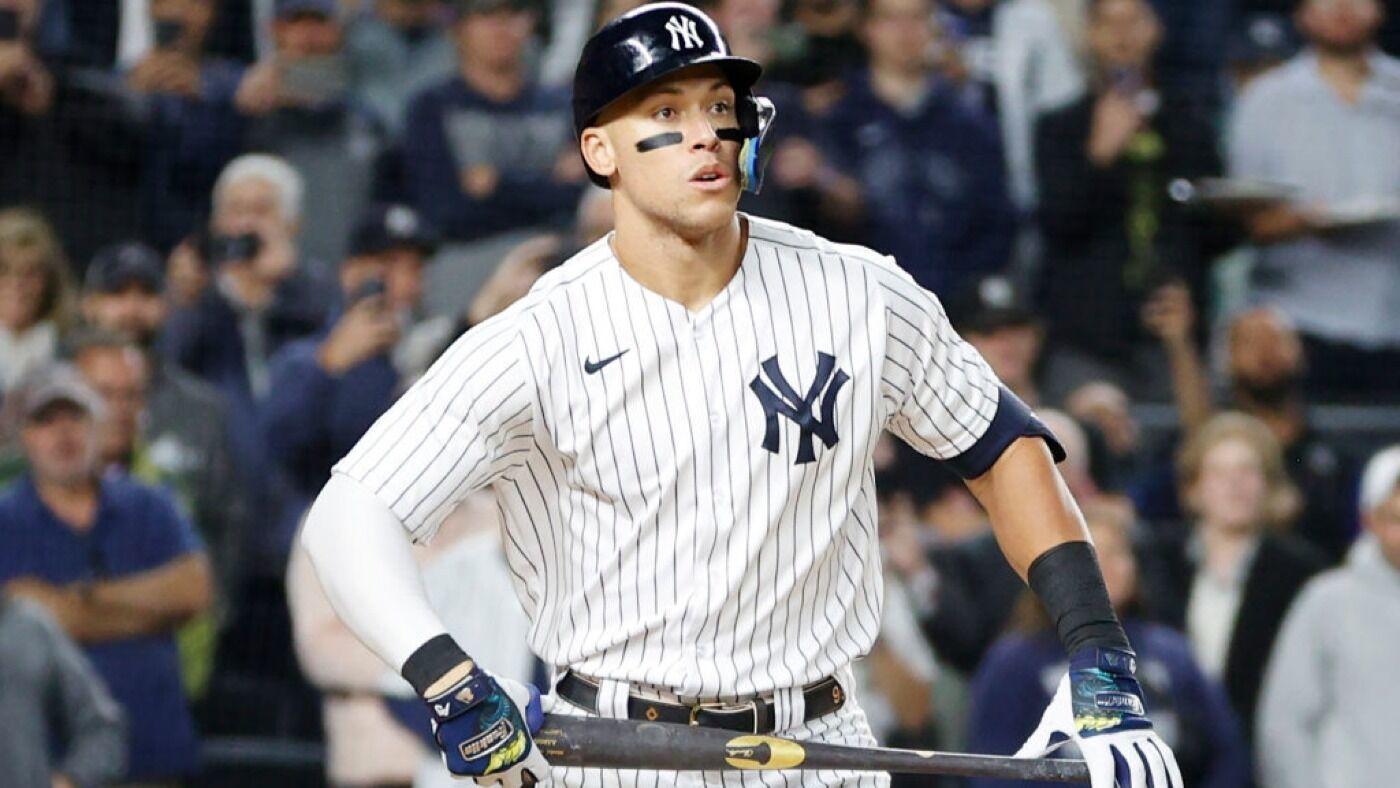 Aaron Judge chases home run record: Yankees slugger walks three times, unable to tie Roger Maris vs. Red Sox
Published
September 23, 2022
New York Yankees slugger Aaron Judge went hitless on Thursday night against the rival Boston Red Sox and remains on 60 home runs for the season – one shy of Roger Maris' franchise and American League record. Judge's Yankees, however, prevailed in 10 innings over Boston by a score of 5-4 thanks to a walk-off single by Josh Donaldson. 
The Yankees' win, their 91st of the season, means they'll advance to the postseason for a sixth straight year, the last five of which have come under manager Aaron Boone. Overall, it's the Yankees' 58th trip to the playoffs. 
In the coming days, Boone's club is very likely to clinch the American League East title and also secure the No. 2 seed in the AL bracket behind only the Houston Astros, who presently have 99 wins. The top two seeds in each league get a bye through the opening-round Wild Card Series and into the best-of-five Division Series. Once in the postseason, the Yankees will be trying to win the World Series for the first time since 2009. 
As for Judge, he wound up 0 for 2 with three walks. In the first inning, he walked on four pitches against Boston starter Michael Wacha. In the third, Judge walked again versus Wacha, this time on seven pitches. Judge in the fifth struck out swinging against Wacha. In the seventh, Judge drew his third walk of the evening – a five-pitch free pass off right-handed reliever John Schreiber. His closest call came in the ninth, as he launched a deep, 404-foot fly to center that Enrique Hernández was able to secure just in front of the wall. 
The Yankees have 13 games left on the regular-season schedule, so it seems highly likely that Judge will surpass Maris and have the AL record to himself. The overall record for home runs in a season is 73 set by Barry Bonds of the Giants in 2001. 
Judge also came into Thursday leading the AL in all three Triple Crown categories – home runs, RBI and batting average. He remains atop all three lists despite the hitless night. Judge is angling to become the first Triple Crown winner since Miguel Cabrera in 2012. Overall, the batter's Triple Crown has been achieved just 12 times since the RBI became an official statistic in 1920. 
Judge will try again for homer No. 61 on Friday night back in the Bronx in the second game of the four-game series against the Red Sox. 
8 K. Put 'em away. @JTaillon50 👏 pic.twitter.com/CV0C0yMdH4
Just another day at the office for Big G. @Giancarlo818 💪 pic.twitter.com/rCY7TOk16n
The @CleGuardians are starting to close in on the AL Central crown. pic.twitter.com/xsyROStYWo
A terrific outing for Taillon 👏 pic.twitter.com/VHQheC9VQC
Postseason Baseball, confirmed. #RepBX pic.twitter.com/tvvZ6UTK5s
Got 5⃣ on it. #RepBX pic.twitter.com/vbVGE5BEQh
.@BringerofRain20's walk-off sends the @Yankees to the #postseason! pic.twitter.com/JVGabKk4fS
Bringer of Rain. Ender of Games. pic.twitter.com/lslDVchqwo
The @Yankees walk it off and are heading to October! #CLINCHED pic.twitter.com/HbpPPl1pig
Walk it off, JD. pic.twitter.com/Khz6KPGTrq
#AaronJudge can do it all! What a throw from @TheJudge44. pic.twitter.com/kAJNetoXZF
He does it all, in case you forgot. pic.twitter.com/J1rCJWJ6zW
Bader brings T-Lo home to tie 👊 pic.twitter.com/0Tym2lfi3t
These numbers against one of the best teams in baseball. What a performance from Kyle Bradish. pic.twitter.com/XTsD2csWtJ
The @RedSox are rallying in the Bronx!Reese McGuire puts Boston in front. pic.twitter.com/BzP3DkN7Ei
.@Giancarlo818 muscles one out! pic.twitter.com/jAoI70P3bn
G-Unit 💪 pic.twitter.com/51RRCfrLXx
Big blast, Big G. pic.twitter.com/BVJm1ZTu3i
Kolten Wong's 3rd homer of the night! 💪💪💪 pic.twitter.com/NurxrvShXt
🚨 immaculate inning 🚨9 pitches, 3 Ks for Hayden Wesneski! pic.twitter.com/7fKtoY7Bkt
Kolten Wong's 2nd HR of the night got out in a hurry. 😳 pic.twitter.com/J0lrYopppt
Get to know each farm system's top prospect headed to the Fall League: https://t.co/7Gzy3TiJHt pic.twitter.com/lkqxs1pN4r
Trey Mancini gets a very warm welcome back to Baltimore. 👏 pic.twitter.com/Oln5sTenLk
Thank you to 4x World Series Champion and Yankees Legend Bernie Williams for performing the National Anthem prior to tonight's game. @bw51official performed as part of his role in @boehringerus ' Tune In To Lung Health campaign to raise awareness for interstitial lung disease. pic.twitter.com/SsZ9EkQWTh
What a play by Goldy to end it! 😱 pic.twitter.com/0OeU0Aji9n
The @Cardinals magic number to clinch the NL Central is just 5. 👀(MLB x @DairyQueen) pic.twitter.com/8DsnS9xg8M
Judge Alert 🚨 In addition to regionalized coverage on FOX, tonight's #BOSvsNYY is available to fans across the country via the FOX Sports App (no market restriction). Plus, viewers receiving #ATLvsPHL will get live look-ins at each Aaron Judge at-bat during the game. pic.twitter.com/hEepBQALkH
The Rivalry: Double-A playoffs editionCeddanne Rafaela (#RedSox) and Portland will look to play spoiler to Jasson Domínguez (#Yankees) and Somerset, who are trying to book a trip to the EL Finals.Watch FREE: https://t.co/6or1LHB03G pic.twitter.com/lDZQWEMm14
Just more crazy @TheJudge44 stats for you. pic.twitter.com/TZoSgTXLOL